Irradiance Spectrum Analysis Measure Solution
Irradiance Spectrum Analysis Measure Solution
author: Susan
2022-12-16
Introduction
Irradiance means measuring how much light reaches a specific place. In this bundle, a cosine corrector is included to collect light from a 180-degree angle, so the measurements are precise. The comprehensive ATP software makes it possible to perform fully calibrated, traceable radiometric and photometric measurements.
Typical applications:
• Solar lighting
• Environmental lighting & general lighting
Irradiance measurement
Irradiance measurement system usually includes components such as spectrometers, light source, optical fiber, cosine corrector, and software.
Shown in the figure(Click picture to video) is a typical irradiance spectrum measurement system, the composition of each part is as follows:
1. ATP series spectrometer;
2. Broad-spectrum ultraviolet, visible and near-infrared light sources, which can be used as irradiance calibration light source;
3. A spectrometer or spectrometer group is connected by fiber optic cables to a diffuser of known surface area. The entire system is calibrated to NIST traceable sources. Optosky offers a wide range of cosine corrector or integrating spheres for irradiance applications.
4. The Optosky ATP_software_ V3.1.30.rar software module enables irradiance parameter measurements such as irradiance quantities – mW/cm2/nm.
**
Please click the picture below to enter the specific operation video of irradiance measurement: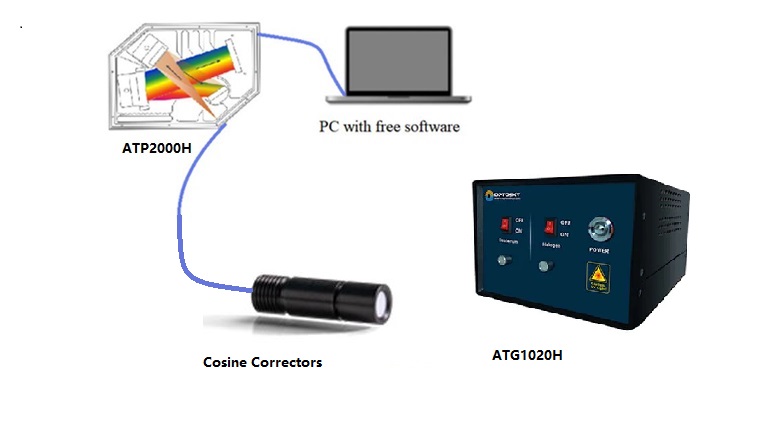 Advantages of Irradiance
Flexible Measurements: Irradiance data can be used to calculate various power parameters and colors.

Quantitative results: Even the simplest comparison of the intensity of light is more precise than the human eye.

Wide choice of configurations: Choose from a variety of spectrometers and sampling accessories to optimize configurations for applications ranging from LED and laser characterization to uplink/downlink solar radiation measurements.
Attachment (Click picture to more details)

ATST150I Integrating spheres
UV-VIS-1-600 fiber
ATP_software_ V3.1.30.rar software