How to Measure WO3/PVA Films by Spectroscopy
How to Measure WO3/PVA Films by Spectroscopy
author: Susan
2022-01-07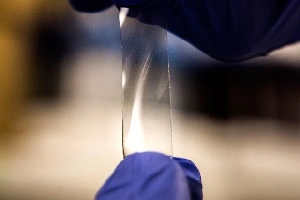 Introduction
The broadband and strong optical limiting (OL) effects of Tungsten Trioxide-Poly (Vinyl Alcohol) (WO
3
/PVA) solid-state nanocomposite films are investigated by using the open-aperture (OA) Z-scan technique with 4ns laser pulses at three laser wavelengths of 355nm, 532nm, and 1064nm, which are located in UV, VIS and IR wavelength region, respectively. Compared with laser wavelengths of 532nm and 1064nm, the nanocomposite
film exhibits much stronger OL effect at 355nm. The nonlinear absorption coefficients (
β
) at 355nm wavelength are 10.32 cm/GW and 15.44 cm/GW for the WO
3
/PVA solid-state films with 0.6 wt% and 1 wt% concentration, respectively, which is several times higher than the
β
values of WO
3
 nanoparticles or nanorods suspensions reported in other papers. Under the same laser energy and wavelength, the
β
value increases with the increase of WO
3
 concentration. At 532nm wavelength, the sample with 1 wt% concentration has a
β
value of 5.94 cm/GW, which is obviously larger than those of other reported typical nanocomposite materials, such as graphene oxide nanosheets, multiwalled Carbon nanotubes, CdTe quantum dots, and BDN dye doped matrix. The nonlinear optical (NLO) behaviors of WO
3
/PVA nanocomposite films are mainly attributable to free carrier absorption (FCA) for 355 and 532nm wavelength and two-photon absorption (TPA) for 1064nm. Based on these studies, the WO
3
/PVA nanocomposite film has potential applications in broadband optical limiters.
Experimental details
PVA has unique chemical and physical properties, such as highly water-soluble, biological friendly, good chemical stability, high transmittance, and easy to make thin films.
In this paper, PVA
based WO
3
 nanocomposite films were prepared as well as NLO and OL
properties of such nanocomposite films were investigated in the nanosecond regime by OA
Z-scan measurement under different wavelengths (355, 532, and 1064nm).
Sample preparation
WO
3
 nanoparticles (particle size <100nm, average size is 50nm) and PVA powers. First, 2 g
of PVA powder was dissolved in 40 ml of distilled water kept to 60 ◦C with constant stirring for 1 h until the polymer was completely dissolved and formed a clear viscous solution. The obtained viscous PVA solution was divided equally into two parts. Different amounts of WO
3
 nanoparticles were added into the two parts, and then sufficiently stirred, two homogenously mixed suspensions with concentrations of 0.6 wt% and 1 wt% were obtained. The obtained suspensions were then cast on a clean glass plate and allowed to dry in air at room
temperature for 48 h to form WO
3
/PVA solid-state nanocomposite films. The thickness of these films was measured using a conventional micrometer, which has a measurement accuracy of 1μm. The measurement results show that the thickness of nanocomposite films with different concentrations of WO
3
 are also about 70μm.
Open-aperture (OA) Z-scan setup
The Z-scan method
is the most common method to measure the nonlinear refractive index and the nonlinear absorption coefficient for a wide variety of materials. The OA Z-scan technique was used to investigate the nonlinear optical properties of samples, the experimental setup is
shown in Fig. 1.

Fig. 1. Open-aperture Z-scan Experimental setup. BS: beam splitter, L1: concave lens, L2 and L3: focusing lens, S: WO
3
/PVA sample, D1 and D2: detector.
Nd-YAG pulsed laser with a 10 Hz pulse repetition rate, 4ns pulse width, and wavelengths of 355, 532, and 1064nm. The laser beam was divided into two beams by a beam splitter, one was used as a reference and the other was
expanded by a beam expanding system composed of a concave lens L1 and a convex lens L2, and then the expanded beam was focused on the
sample by a convex lens L3 with a 10 cm focal length. The sample was placed on a motorized translation stage, which was interfaced with a computer through a motion controller.
The detectors D1 and D2 were used to collect and measure the reference beam and the beam transmitted through the film, respectively.
Test Results
1. The linear optical absorption spectra of WO
3
/PVA nanocomposite films
ATP2000P used to measure the linear optical properties of WO
3
/PVA films, the absorption spectra of pure PVA and WO
3
/PVA nanocomposite films are shown in Fig. 2.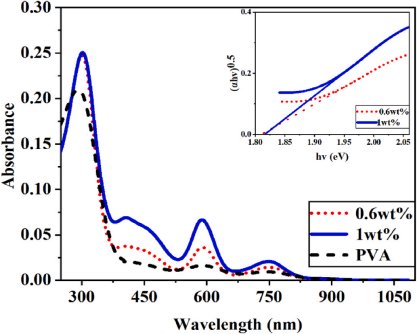 Fig. 2. Optical absorption spectra of pure PVA and WO
3
/PVA nanocomposite films. Inset: Optical
band gap of WO
3
/PVA nanocomposite films.
The strong absorption band around 300nm corresponds to the absorption band of PVA. Tungstic oxide films display a broad absorption with a maximum peak of approximately 590nm. The inset of Fig. 2 shows the diagram used to calculate the band gap energy. Therefore, the band gap energy of the sample with 0.6 wt% and 1 wt% concentration is 1.81 eV and 1.82 eV, respectively.
2. The SEM study of WO
3
/PVA nanocomposite films
In order to study the homogeneity of nanocomposite film, the SEM image of WO
3
/PVA film with 1 wt% concentration is taken with JSMIT500HR. From Fig. 3, it shows that WO
3
 nanoparticles have an average size of 50 nm and are uniformly dispersed in PVA polymers without obvious agglomerations.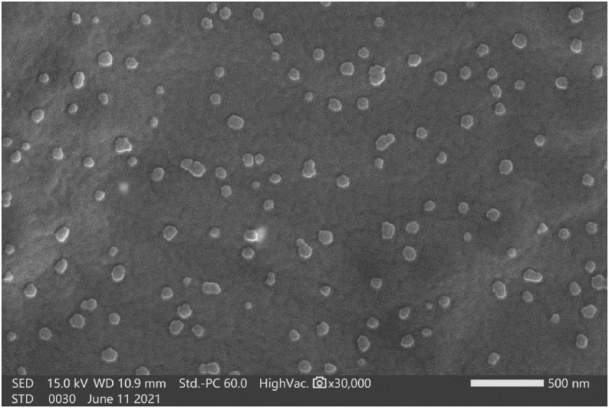 Fig. 3. SEM image of WO
3
/PVA nanocomposite film with a concentration of 1wt%.
3. The broadband NLO properties of WO
3
/PVA nanocomposite films
The OA Z-scan method under the nanosecond laser pulses with three wavelengths, i.e., 355nm, 533nm, and 1064nm, respectively, was carried out to investigate the NLO properties of pure PVA and WO
3
/PVA films. The experimental results are shown in Fig. 4.
Fig. 4. OA Z-scan curves of pure PVA and the WO
3
/PVA nanocomposite films under different laser wavelengths and energies (a) and (b): 355nm 80μJ, (c) and (d): 532nm 125μJ, (e) and (f): 1064nm 155μJ. Solid points are the experimental data and solid lines represent the theoretically fitting curves.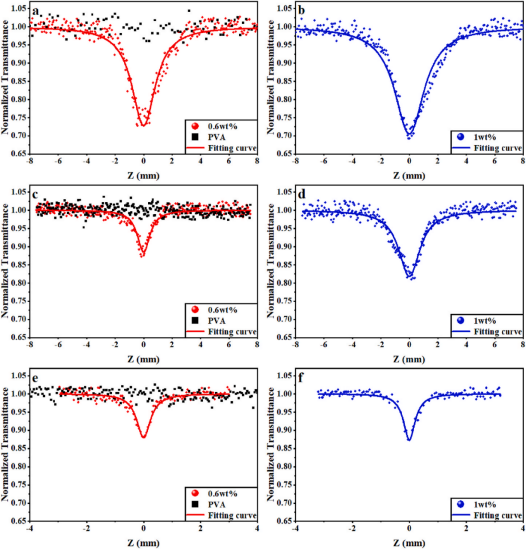 Fig. 4. OA Z-scan curves of pure PVA and the WO
3
/PVA nanocomposite films
From Fig. 4, it can be seen that the nonlinear effect at the excitation wavelength of 355nm is
the strongest for the samples with two
concentrations as the valley of the transmittance curve is much deeper even in lower energy, and the calculated β value will be bigger. For 532nm and 1064nm, in the case of similar incident energy, the NLO effect of 532nm is stronger than 1064nm, and the β value of 532nm is larger than that of 1064nm at two concentrations.
For purpose of investigating the capability of nanocomposite films as optical limiters, OL measurements were carried out. The experimental setup for OL measurement is similar to the OA Z-scan except that the nanocomposite films were only placed in focus point and incident pulse intensity was changed. As shown in Fig. 5, the transmittance decreases quickly with the increase of the incident pulse intensity in the low intensity region, and the transmittance decreases more and more slowly in the high intensity region.

Fig. 5. Optical limiting behaviors of WO
3
/PVA nanocomposite films at the different excitation wavelengths (a) 355nm, (b) 532nm, (c) 1064nm.
Conclusion
For WO
3
/PVA solid-state nanocomposite films, and NLO and OL properties of nanocomposite films at three laser wavelengths of 355nm, 532nm, and 1064nm were studied by using the OA Z-scan method. All the films exhibit positive signs for absorption nonlinearities. The β value increase with the increase of WO
3
 concentration at the three wavelengths used in the experiment. The
experimental results show that the β values of the WO
3
/PVA solid-state films are much higher than the values of WO
3
 nanoparticles or nanorods suspensions and other typical
nanocomposite materials reported in other literatures. The OL characteristics of the nanocomposite films with two WO
3
 concentrations were studied. The results show that the nanocomposite films have obvious OL effects at the three wavelengths, and the OL effect is best at 355nm. The NLO and OL effects of the nanocomposite films are mainly attributable to
free carrier absorption (FCA) at 355 and 532 nm and two-photon
absorption (TPA) at 1064 nm. Based on our research results, the WO
3
/PVA solid-state nanocomposite film has broadband and strong optical limiting effects, and will be a good candidate as an optical limiter to protect human eyes and optical sensors from the damage of intense laser
irradiation in the ultraviolet, visible, and near-infrared wavelengths.
Related Products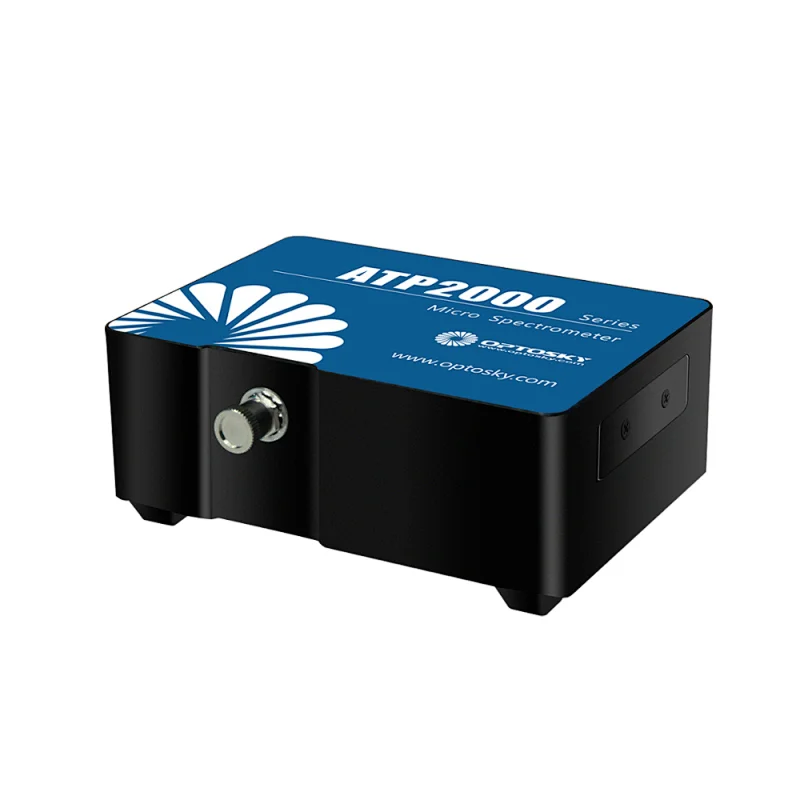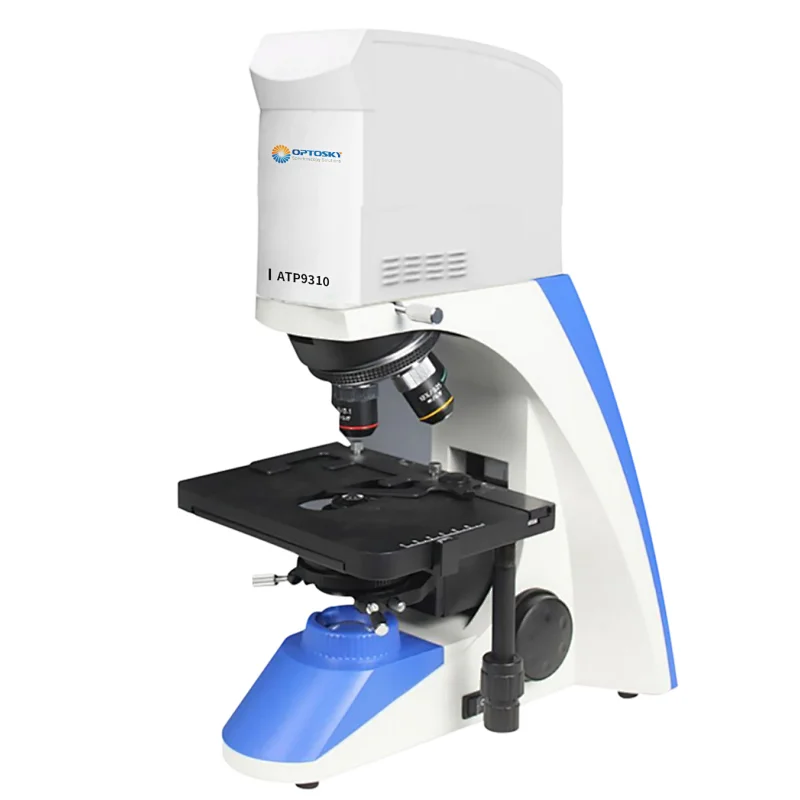 ATP2000P
UV-VIS-NIR Microspectrophotometer ATP9310
Related Articles
"Electrochromic behavior of WO

3

 thin films prepared by GLAD

"

"Preparation and optical characterization of novel Ge-Se-Sb/PVA composite films for optical limiting application"

"Electronic structure and optical limiting behavior of carbon nanotubes"
Related

Blogs